JEBEDIAH @ SPRING LOADED FESTIVAL DARWIN NT
Jebediah + Grinspoon + Regurgitator + Frenzal Rhomb + Magic Dirt + Screamfeeder
Buy Tickets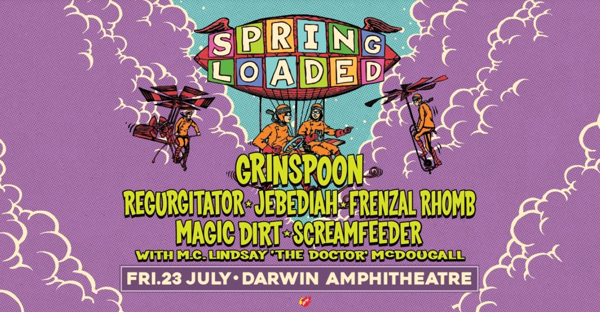 Line Up
Formed in 1995 by Kevin Mitchell (Guitar / Vox), Brett Mitchell (Drums), Chris Daymond (Guitar) and Vanessa Thornton (Bass), Jebediah started out playing the normal gigs young bands do. A school ball here, a band comp there. They stood out a little from the Perth band scene at the time as they were a little brasher than most and seemed to worry more about how high and hard they could pogo around the stage than how to hit that note just right. Things started to get a little silly around April 1996, with a bunch of labels chasing the band, and an eventual signing to Murmur Records (home of Ammonia and Silverchair at the time). The momentum grew with some amazing shows supporting bands such as Presidents of the USA and Everclear, and playing at Homebake and The Falls festivals. Late 96 the debut single Jerks of Attention; is released, garners the band its first national radio play and the Jebs start hitting the road properly. They haven't really stopped since then.
In 1997 the band played over 150 shows with bands like Powderfinger and Bikini Kill and somehow managed to fit in recording a debut album Slighty Odway; which was released in September 97. It scared the crap out of band and label alike by debuting in the national top 10. Slightly Odway was gold by the end of the year, and eventually went on to sell over 150,000 copies in Australia, as well as doing well in Japan and New Zealand.
1998 was business as usual. Three headline tours, a couple of shows with the Smashing Pumpkins, and festivals including Livid, Homebake and Pushover. Some highlights were touring with The Living End in the main support slot, and selling more shirts than The Smashing Pumpkins at their Melbourne show. Jebediah started the new year with their first national Big Day Out run. US Rolling Stone mentions the fact that the band managed to entertain 40,000 people for 10 minutes at the Melbourne BDO without the benefit of a PA. The band managed to get the whole crowd singing the national anthem.
In April 1999 Jebediah entered the studio with US Producer Mark Trombino (Jimmy Eat World, Blink 182) to record Of Someday Shambles; their follow up to Slightly Odway;. After a difficult birth the band took off to Canada for their first taste of touring in the Northern Hemisphere. Not being ones to mess around they toured NZ for the second time on the way home and hit the road to launch 1st singleAnimal; on the general populace. Of Someday Shambles was a darker and more emotional album than the bands perky debut, but was well received, debuting at #2 in Australia - just beaten to number 1 by some upstarts from Brisbane called Savage Garden. A second Canadian tour was slotted in just before the launch of OSS, with Jebediah opening for some (at the time!) unknown band called Nickelback.. Like the band members have always said, they will play with anyone as long as there are more people in the audience than there are on stage!
After their exciting flirt with audiences above the equator, 2000 was spent with eyes on overseas climes. After another quick jaunt around the country with the Big Day Out, Jebediah headed out on their biggest tour yet, taking US indie punk band The Get Up Kids out as an opener on "Tour De Shambles". 31 shows, 30 people on the road, rock and fucking roll. While this tour wended its way around the country a deal was being struck in the US with independent label Big Wheel Recreation to license Of Someday Shambles in the US. As an introduction to North America a split CD and vinyl release with Jimmy Eat World was put out on BWR in September 2000 with a repackaged album hitting the streets in October. The split CD has gone on to sell many thousand worldwide, and Of Someday Shamblesmade quite an impact at college radio. David Fricke (editor of US Rolling Stone) placed the album in his top releases for the year, and Jebediah toured the release hard with a 3 month US jaunt supporting The Get Up Kids and then Jimmy Eat World. 70+ shows, 36000km, a lot of bad food and cheap bourbon, the tour finishes in LA and then the band take a week off and then do a lap of Australia to celebrate with Sleepy Jackson and Magic Dirt in support.
In 2001 Jebediah spent most of the year writing and recording their self titled 3rd album. The bagpipe driven "Fall Down" was a top 20 hit, and the album debuted at #8 on the ARIA charts when it was released in March 2002. The band toured it hard, finishing their campaign in 2003 with another BDO tour, with the Jebs playing like they had done a deal with the devil.
In October Jebediah had a successful UK tour with headline shows in London and Edinburgh and a few supports for Powderfinger at Shepherds Bush Empire. Refreshed, revitalised, kings of their destiny and with a batch of tunes to make your heart stop, the band entered the Kingdom Studio in January 2004 with engineer Matt Lovell. Taking a month to track and then having the album mixed by Shaun O'Callaghan while the band were on tour, Braxton Hicks was as warm, honest and self assured as the Jebs have ever been. The album was released in July 2004 (April 2005 in Japan) and Jebediah toured Braxton Hicks hard, headlining tours, teaming up with mates Grinspoon for some shows, and popping up at multiple Big Day out shows. Tracks like "No Sleep"; and "First Time"; off Braxton Hicks got a hammering on radio, and had the band stuck in the collective consciousness once more.
In late 2005 Jebediah headed around the nation on their 10th Anniversary tour, playing a set voted by their fans in each city they visited. It was fitting that the band then headed into hibernation, with many jokes made about long service leave. Jebediah took the time to collectively have a rest, catch their breath and assess their career. Time was taken having lives, jobs, and a little holiday from music for most. Kevin headed overseas to make and release his second Bob Evans album, which has been a gold selling success in Australia and he has toured and released it in several territories overseas. Brett moonlighted for awhile in Perth rockers The Fuzz, and Vanessa has been in several musical collaborations, most recently appearing in the star studded backing band for Felicity Groom.
In late 2007 the Jebs made their live comeback with a month long regional tour of Western Australia, "Back in the Saddle Tour", playing all the old classics as well as come new songs that had been written during the year.
2008 has seen the band begin to work on their 5th studio album in Perth with Dave Parkin (Snowman, Red Jezebel), which promises to be their most experimental work to date. Jebediah have completed a sold out Eastern States tour, returning to stages in Melbourne, Sydney and Brisbane for the first time in three years and being welcomed back with the same unbridled enthusiasm that has become a staple of their 13 year long career.
View Profile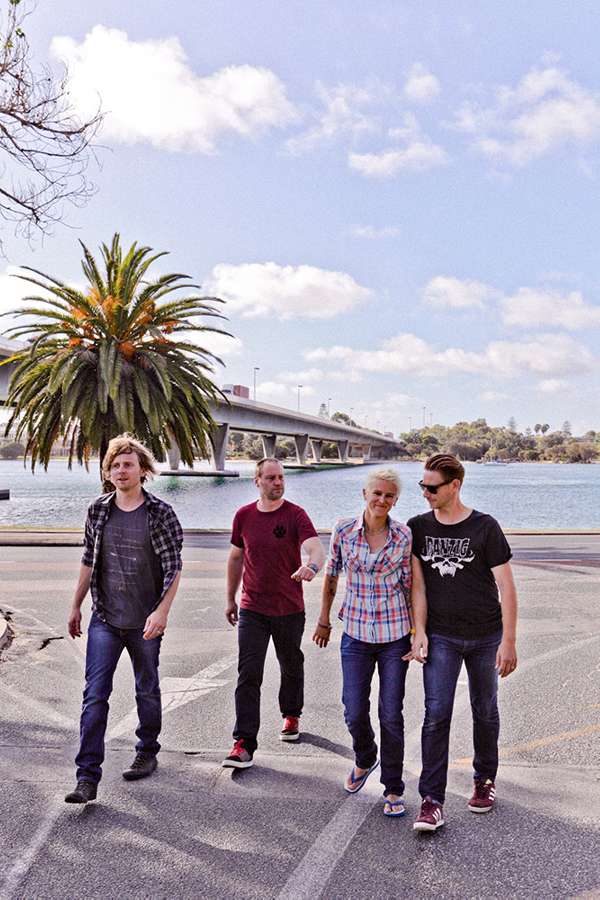 Grinspoon
Regurgitator
Frenzal Rhomb
Magic Dirt
Screamfeeder. A legendary 3-piece noisy pop/indie rock band from Brisbane, Australia. Lovers of loud and beautiful music since the day they were each conceived, they have been compared to all the greats; Husker Du, The Jam, GBV and The Who. Contradictions and dualities abound within Screamfeeder, and therein lies their beauty.
They're the band every Australian grew up with, whose songs are imprinted into the DNA of every music-lover who came of age in the 90's and 00's. A band of eternally-youthful fuzz-pop darlings who, however improbably, have continued to play together for over 20 years and somehow have not only gotten better, but have become even more loved. A band that combines loud with beautiful, intense with joyous, chaotic with precise and pulls it all together in a way that very few acts ever manage.
While not dwelling too much on the music industry history, Screamfeeder were always the band that everyone knew were one of the best in the country, as well as often the unluckiest. Label turmoil seemed to be their lot in life, but it never stopped them making great music and having big, memorable hit songs.. They released their debut album Flour in 1992, and followed that with five more scorching albums including in 1996 the undeniably-classic Kitten Licks. Their records have continued to sell, so much so that all six albums and their covers EP Home Age are being re-released on Poison City Records on vinyl – the first four through 2014, the rest in 2015 and 2016.
They've toured Australia too many times to count, as well as the US, the UK, New Zealand, Singapore, Japan, France, Germany, Switzerland and Spain, taking audiences on the ride that is uniquely Screamfeeder. Live, they're a non-stop whirlwind of high-energy heavy riffs, caterwauling feedback and pulse-racing bass, Tim and Kellie entwining their vocals around the music, all anchored with the explosive power of Dean's drumming. This band can give anyone in the world a run for their money – they're raw, grungy, fiery, effortlessly skillful yet loose at the same time, an exuberant and joyful wave of music filling every space in the room with pure radiant youth.
"…(their) ragged, infectious spirit evokes all kinds of glories: classic soul records, the early Who singles, the fire and fun of bands such as the Jam and the Replacements." (Courier Mail)
After a couple of quiet years, the band stepped back into the live arena in 2013 with well-received supports for Bob Mould and The Breeders – and it was apparent that plenty of people still wanted to see them. What better reason than to come out of hibernation?
To celebrate the re-issue of their classic '90s albums, the band undertook a 2014 national tour, focusing on songs from their spiky, immediate debut Flour, the crushing, seminal Burn Out Your Name, 1995's oddball indie rollercoaster Fill Yourself With Music and the 1996 smash Kitten Licks. Guess what? Rooms filled with punters singing every word were testament to the abiding quality of, and ongoing love for the band and their songs. 2015 saw the re-release of their classic 2000 album, Rocks On The Soul, and again, a huge national tour followed – this time with brand new single Alone In A Crowd getting solid airplay and glowing press all around the country. Yes, Screamfeeeder are well and truly back…
In 2016, the latest single All Over It Again is once again blasting out of radios everywhere, the band are in career-best form live, A brand new album is on its way for early 2017, to be followed by extensive national and international touring.
Tim , Dean and Kellie have made an overdue return to the ring; long-time heavyweight fighters on the side of good, in a world increasingly dominated by uni-course bands obsessed with boat shoes, fashion-magazine haircuts, and nice radio pop.
"Forget Jet, The Vines, even You Am I... Screamfeeder are hands down the country's best rock band and Take You Apart is all the proof you need. For real." (Time Off magazine, Brisbane, 11/03)
Screamfeeder believe in writing good songs, and performing them like their lives depend on it. There simply is nothing like them around today. Old school? Shit yeah, and proud of it.
View Profile