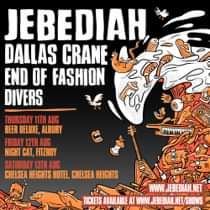 Gang!
You have asked and we have listened!
We will be bringing our little traveling show to ALBURY, MELBOURNE and CHELSEA HEIGHTS in AUGUST!
Coming along for the ride will be our mates Dallas Crane and End of Fashion as well as young upstarts Divers.
THURSDAY 11TH AUGUST - BEER DELUXE, ALBURY, NSW FRIDAY 12TH AUGUST - THE NIGHT CAT, MELBOURNE, VIC SATURDAY 13TH AUGUST - CHELSEA HEIGHTS HOTEL, CHELSEA HEIGHTS, VIC
We have not played pub shows in this part of the world since 2019 and the before times!
Tickets are ON-SALE NOW via our website - www.jebediah.net/shows
Grab yer tix and we'll see you soon!
CHEERS
JEBS