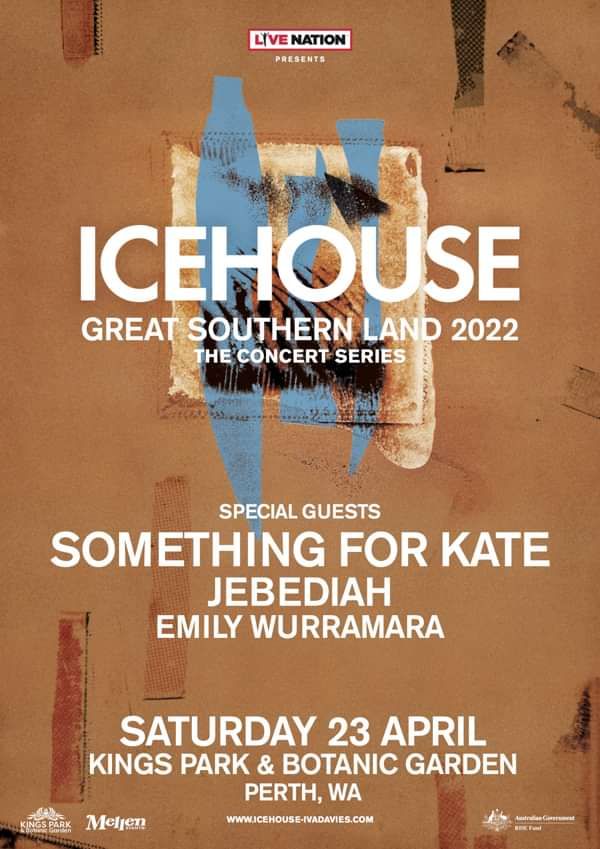 Hey gang!
We are super thrilled to announce a home town show in Perth in 2022!
Jebs will be joining ICEHOUSE, Something For Kate and Emily Wurramara for a massive show at Kings Park on SATURDAY APRIL 23RD next year!
This will be our first home town show since New Years Eve in 2019.
Grab yer tix and we'll see you there! pre-sale from 10.00am, Thursday, 28 October to 9.00am Friday, 29 October 2021 Tickets on sale from Friday, 29 October 2021 at 10.00am
JEBS
Line Up
Perth four-piece Jebediah have remained the ultimate crowd pleasers playing festivals and special one off gigs throughout the years. In 2015 the band celebrated their twentieth anniversary with 'TWENTY' – the biggest tour the band had undertaken in some time with a double album of their greatest hits and national sell-out tour.
It's impossible for an Australian of a certain vintage to imagine those late '90s summers without those delirious early Jebs singles — 'Jerks of Attention', 'Leaving Home', 'Teflon', 'Harpoon', 'Animal' — blasting out of every car radio and festival PA from Summersault to the Falls to Homebake.
Kevin Mitchell, Chris Daymond, Vanessa Thornton and Brett Mitchell were mostly teenagers when they set out: brothers and best mates from some far-flung Perth high school who'd accidentally stumbled into the first division of the global rock'n'roll perpetual and given it a cheeky kick up the arse while running rings around it with guitars in the air. In 2017 nothing much has changed JEBEDIAH still present a live performance with gusto and gratitude.
The secret to JEBEDIAH's longevity is simple, a long lasting friendship in which the chemistry remains and the desire to crank it big time, each and every time they hit the stage.
View Profile