SEA & SOUND FESTIVAL THIS SATURDAY!
We are on stage 7.35pm at Sea n Sound Festival in Frankston, Victoria. See you there! Tix still available here
WAM AWARD NOMINATION FOR MOST POPULAR ACT
Hey gang, Jebs have been nominated for most popular act at this years WA Music awards. If you feel like slinging a vote our way, you can do so by following this link. It takes about 5 seconds. CHEERS! JEBS
TWILIGHT AT TARONGA ZOO W/ THE LEMONHEADS MARCH 1
Hey gang, this is golden....the first gig Jebediah ever played back in '95 we covered two songs by The Lemonheads, "Confetti"and Ït's A Shame About Ray", so we are thrilled to be opening for them at Twilight at Taronga in Sydney on March 1st 2018! Get yer tix here CHEERS! JEBS
HOTTER THAN HELL QLD SHOWS!!!
Hey gang, we will be cracking XXXX frothies and playing FOUR MASSIVE SHOWS in Queensland over summer in 2018 on the Hotter Than Hell tour. Each show the line up is slightly different so pay close attention now... KIRWAN TAVERN TOWNSVILLE JANUARY 13TH w/ Eskimo Joe Killing Heidi The Superjesus Official HARVEY ROAD TAVERN GLADSTONE JANUARY 20TH w/ Grinspoon Killing Heidi The Superjesus Official REDLAND BAY HOTEL JANUARY 27TH w/ Eskimo Joe The Superjesus Official Thirsty Merc RACECOURSE HOTEL IPSWICH FEBRUARY 10TH w/ Eskimo Joe Frenzal Rhomb Tickets go on sale OCTOBER 18TH but you can sign up for pre sale registration here CHEERS! JEBS
BULIMBA FESTIVAL SATURDAY OCTOBER 7
Hey gang, We're playing a free show in sunny Brisbane Queensland for the Bulimba Festival on Saturday October 7th! Come join us! JEBS
SEA N SOUND FESTIVAL FRANKSTON NOV 18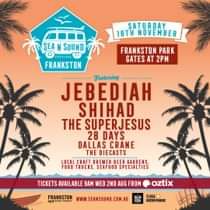 FRANKSTON VICTORIA SATURDAY NOVEMBER 18!!!! We are bringing in summer with Sea N Sound Festival this year! TIX ON SALE 9AM AUGUST 2ND FROM HERE
CHEERS! JEBS
A DAY ON THE GREEN, MUDGEE SATURDAY NOVEMBER 4!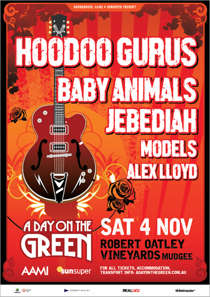 Hey! We're playing at A DAY ON THE GREEN in MUDGEE at Robert Oatley Vineyard on SATURDAY NOVEMBER 4TH! Sign up here to access pre-sale tickets from 12pm Monday 3 July. General Public tickets on sale 10am Monday 10 July. See you there! JEBS
FIST FULL OF ROCK TOUR!!!!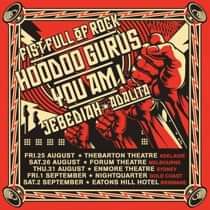 HOLY SMOKES! IT'S ACTUALLY HAPPENING!!! We are overjoyed to be part of this amazing line up with some of our favourite people touring around the place this August & September!!!! TICKETS ON SALE MONDAY MAY 29 @ 10AM AEST
FRI AUG 25, THEBARTON THEATRE, ADELAIDE http://www.ticketmaster.com.au/ SAT AUG 26, FORUM THEATRE, MELBOURNE http://www.ticketmaster.com.au/ THUR AUG 31, ENMORE THEATRE, SYDNEY http://premier.ticketek.com.au/ FRI SEPT 1, NIGHTQUARTER, GOLD COAST https://www.oztix.com.au/ SAT SEPT 2, EATONS HILL HOTEL, BRISBANE https://www.oztix.com.au/ & http://www.ticketmaster.com.au/
CHEERS!
JEBS.
RTRFM 92.1 IN THE PINES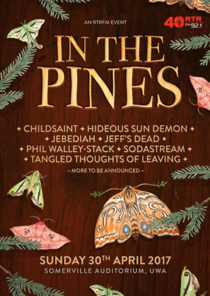 Hey Perth! We are so excited to be playing In The Pines for RTRFM 92.1 on APRIL 30th! RTRFM's local music fest will take place once again in the idyllic surrounds of The University of Western Australia Somerville Auditorium, featuring 20 of Perth's best across two stages. Grab tickets from here
JEBZ
TWO MIDNIGHT OIL SHOWS IN OCTOBER!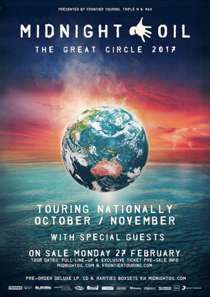 MASSIVE NEWS! We are honoured and beyond excited to announce today that we have been invited to play TWO shows with Midnight Oil on their just announced 2017 Australian tour!
OCTOBER 14th – BIG PINEAPPLE FIELDS (QLD)
OCTOBER 19th – COFFS HARBOUR HOCKEY FIELDS (NSW)
TICKET DETAILS FOR ALL SHOWS ARE RIGHT HERE CHEERS! JEBS
BRAXTON HICKS WORLDWIDE DIGITAL RELEASE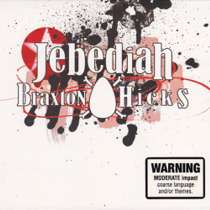 We are proud to announce that our album BRAXTON HICKS has finally received it's long over due world wide digital release! Thank you for your patience. Now all five of our studio albums can be downloaded from iTunes and streamed on Spotify.
Some fun facts…Braxton Hicks was our fourth album and came out in 2004. It was a watershed moment for the band. Newly independent, we produced it ourselves and released it on our own record label, Redline Records. It would be 7 long years before we managed to follow it up with another one.
CHEERS,
JEBS
By signing up you agree to receive news and offers from Jebediah. You can unsubscribe at any time. For more details see the privacy policy.