SLIGHTLY ODWAY RELEASED TODAY IN 1997
SEPTEMBER 8TH is SLIGHTLY OD-DAY!
XXIII
JEBZ
Anniversary EP and Twitch EPs available to stream & download now!
Hey gang!
Scintillating news! We have now for the first time been able to make a couple of our old EP's available for streaming and digital download!
"Twitch", released in 1996, was our first ever recording, made when the band had only been together for about 12 months. We had quickly developed a loyal live following in our home state of WA which hilariously helped this little guy knock of Celine Dion and The Fugees to go number 1 on the State singles charts the week it was released! Funny times!
The Anniversary EP was something we put together in 2005 to celebrate our 10th anniversary as a band. It includes acoustic studio versions of "Harpoon", "Feet Touch the Ground" and "Yesterday When I was Brave". It also contains a song called "Patty Powell" that was written for that particular studio session and is a rarity to say the least, as well as "More Alone" from our fourth album Braxton Hicks.
DOWNLOAD/STREAM ANNIVERSARY EP HERE
We hope you enjoy fossicking about amongst these old nuggets, rarities and acoustic versions!
CHEERS
JEBS
Every week we are updating our very own Spotify playlist!
Hey gang,
Every week we are updating our very own Spotify playlist! Slightly Odd Days is an isolation party mix of mid 90's classics - songs that inspired our young and impressionable minds as we dropped out of Uni, hung out at Vanessa's flat in Fremantle and imagined ourselves following in the footsteps of our indie rawk heroes. It's a NON STOP BOP and now goes for over 5 hours!!!
STAY WELL. SEE YOU SOON.
JEBS
Pic - Stewart Munro Photography
JEBEDIAH LIVE AT SPRING LOADED FESTIVAL, SYDNEY
Gang! Some good new just in! We will be joining a bunch of our great mates for Spring Loaded on SATURDAY NOVEMBER 7TH at Royal Randwick, Sydney!
Please keep staying home, physical distancing, washing yer hands LOADS and doing everything that has been asked of us. It's a weird and crappy time but everything we do now will help us get out the other side sooner.
JEBS
SLIGHTLY ODD DAYS, A JEBEDIAH SPOTIFY PLAYLIST
Hey gang!
SLIGHTLY ODD DAYS, our Spotify Iso-party playlist gets fresh adds weekly, all songs added being ones that we hung out to in the years directly before and after forming the band in the mid 90's. It's a nostalgia fest, basically. We hope you are diggin' it!
JEBS
The Australian music industry is sending out an SOS
GANG!
The Australian music industry is sending out an SOS and appealing to all music fans out there to donate whatever they are able to toward Support Act, the organisation who provide immediate support to artists, crew and all members of the industry during times of hardship. They have already been a life saving resource to so many of my brothers and sisters but right now their services will be needed by so many more than at any time before...they will be inundated.
It's true what has been said of late, that the music industry and it's artists are often the first to respond to major crises with fundraising events that have contributed many millions of $$$ over the years.
Please visit the website here for all the details.
Thanks for reading & take care everybody!
JEBS
LIVE AND FREE AT MANDURAH CRAB FEST
JUMP FOR JOY, IT'S A FREE SHOW!!!!!
MANDURAH CRABFEST!!!!!!!
It's happening in the coastal enclave of Mandurah, Western Australia on SUNDAY MARCH 15TH!
Bring the whole family! IT'S FREE!
CHEERS!
JEBS
PLAYING LIVE AT CASTELLI WINES ESTATE, DENMARK WA
Hey gang,
Better start planning that road trip cos we are playing on this massive line up over the LABOUR DAY LONG WEEKEND in DENMARK, WA on FEBRUARY 29th 2020!!!!!!!
Cheers
JEBZ
LIVE AT PERTH BEER FEST 2020!!!!
Hey gang!
Do you like beer? Do you like festivals? Well you're in luck cos we are playing PERTH BeerFest Australia on FRIDAY MARCH 27th at LANGLEY PARK!!!!!!
Grab ya tix here
SEE YOU THERE!
JEBZ
LIVE AT MEATSTOCK MELBOURNE 14 March 2020
Jebediah supporting Cold Chisel in Freo & Busselton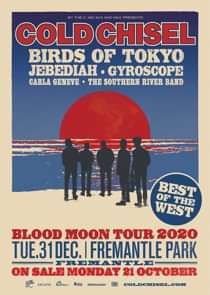 We couldn't be more excited to announce that we're supporting the legendary Cold Chisel in Fremantle Park on December 31st and Barnard Park Busselton on January 1st.
It's an absolute monster WA line up featuring Birds Of Tokyo, Gyrascope, Carla Geneve and The Southern River Band!
Tickets go on sale Wednesday, October 16th
LIVE w YOU AM I AT THE TRIFFID'S 5th BIRTHDAY PARTY!!!
Hey gang,
We are super excited to be teaming up with You Am I to celebrate the awesome venue that is The Triffid in Brisbane turning 5 years old on THURSDAY NOVEMBER 14TH!
Grab yer tix from here now!
CHEERS!
JEBS
By signing up you agree to receive news and offers from Jebediah. You can unsubscribe at any time. For more details see the privacy policy.