LIVE AT MEATSTOCK MELBOURNE 14 March 2020
MEATSTOCK!
MARCH 14th 2020
MELBOURNE SHOWGROUNDS
JEBS
Jebediah supporting Cold Chisel in Freo & Busselton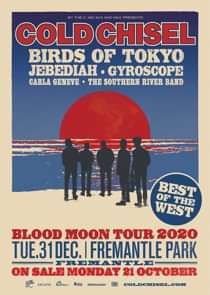 We couldn't be more excited to announce that we're supporting the legendary Cold Chisel in Fremantle Park on December 31st and Barnard Park Busselton on January 1st.
It's an absolute monster WA line up featuring Birds Of Tokyo, Gyrascope, Carla Geneve and The Southern River Band!
Tickets go on sale Wednesday, October 16th
LIVE w YOU AM I AT THE TRIFFID'S 5th BIRTHDAY PARTY!!!
Hey gang,
We are super excited to be teaming up with You Am I to celebrate the awesome venue that is The Triffid in Brisbane turning 5 years old on THURSDAY NOVEMBER 14TH!
Grab yer tix from here now!
CHEERS!
JEBS
MASSIVE NEWS ANNOUNCED - TOURING WITH YOU AM I!!!!
Hey gang!
MASSIVE NEWS this morning coming from team headquarters. Jebs are embarking on a HUGE national tour with our dear friends YOU AM I kicking off in October and going through til December!
When Jebediah first started back in Perth in 1995, one of our ambitions was to be able to play support to You Am I, a band we had been going to see at all ages shows and whose records we had on constant rotation. That opportunity came along a year later, although the place in which it happened has been hotly contested ever since, with seemingly everyone involved remembering it slightly differently, although we all agree that is was "somewhere down South" in WA. 24 years of touring can make the details a little foggy sometimes, but one thing has always been clear, You Am I and Jebs share in common an absolute joy and commitment towards playing shows like our lives depend on it, (which they do), night after sweaty, beer soaked night.
We can't wait to add this new chapter to the history we so proudly share with Australia's greatest ever rock and roll band, You Am I!
These shows are going to be bloody enormous! You'd be silly to miss 'em really.
Tickets available at 'www.jebediah.net/shows' right now!
CHEERS
JEBS
LIVE at SCENE AND HEARD FESTIVAL!!
Hey gang, you'll be seeing and hearing us at Scene & Heard Festival this year!
We are playing in Cairns on Sunday October 27th, and in Newcastle at Wickham Park on Sunday November 10th.
Pre sale begins Tuesday 11 June, 9am AEDT Sign up for the presale here
LIVE at STATE OF THE ART FESTIVAL, WA - June 3rd
IT'S ALL AGES! IT'S ALL FREE! IT'S ALL W.A!
It's SOTA Festival and we are going to be there!
Monday June 3rd (WA Day long weekend)
Cheers!
JEBS
Of Someday Shambles reissue out April 13th!!!
Hey gang!
To celebrate the twentieth anniversary of our second album, Of Someday Shambles we are re-releasing it as a special limited edition, 180 gram double vinyl to come out for Record Store Day Australia on SATURDAY APRIL 13TH!
This special vinyl release of OSS will come in a lovely opaque purple colour and contain some extra tracks that didn't make it on to the original pressing in 1999. The last song on the record, "Run of the Company" didn't fit on the original vinyl release and so was just left off, even though it was still listed on the back, (hey, it was '99 and we couldn't stretch the budget to make it a double album). Now, twenty years later, we will finally address this heinous mistake and "Run of the Company" will be released on vinyl in all its epic 7 minute orchestral glory! We have also included the two tracks that were recorded during the same studio sessions with Mark Trombino but didn't make it on to the album, those tracks being "Supposed to Say" and "The Less Trusted Pain Remover".
If you want to grab yourself a copy you will need to visit a record store. If there are any left we will sell them through our on line shop but be warned they might disappear rather quickly!
CHEERS!
JEBS
LIVE @ HIGHFIELDS TAVERN, TOOWOOMBA SATURDAY MAY 4th
Alright you banana benders! Seeing as though we are playing a couple of QLD festivals this coming May we thought we'd sneak in a cheeky Saturday night pub gig
SATURDAY MAY 4 - Highfields Tavern, QLD
with special guests WE ALL WANT TO
GRAB YER TIX 'ERE
CHEERS!
JEBS
STONES CORNER FESTIVAL, SUNDAY MAY 5th
Hey gang, we're going to be headlining Stones Corner Festival in Greenslopes, QLD over the Labour Day long weekend on SUNDAY MAY 5TH and the best part is it's FREE ENTRY! So don't muck about, put it in your calendar and we'll see you there!
JEBS
SURFERS PARADISE LIVE, May 3rd
Hey gang, here comes another one....
SURFERS PARADISE LIVE!
SATURDAY MAY 3RD!
FREE ENTRY!
More info here
JEBS
LIVE at SPRING LOADED FESTIVAL, BRIBIE ISLAND!!!
LIVE MATTHEW FLINDERS HOTEL IN JANUARY!
Hey gang!
We're rocking the suburbs with our mates You Am I at MATTHEW FLINDERS HOTEL in CHADSTONE, VICTORIA on THURSDAY JAN 17th 2019!
Guaranteed hot, sweaty good times & refreshing ales.
TIX ON SALE NOW HERE! Go grab em and we'll see you there!!!!!!
JEBS
By signing up you agree to receive news and offers from Jebediah. You can unsubscribe at any time. For more details see the privacy policy.